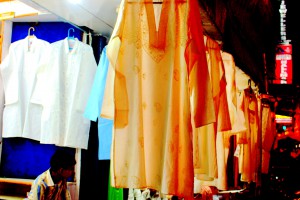 Very few visitors I found in Lucknow who after a busy day do retire to their hotel rooms and book a taxi for Amausi Airport next day without visiting the famous Chowk area. However most of them go to buy apparels made of Chikan. Undoubtedly Chikan is one of the biggest attractions for any visitor coming to Lucknow but not the only reason that makes Chowk a must-visit destination.
Chowk is a market area located in old Lucknow. The area stretches to around one kilometer from Gol Darwaza on one side to Akhbari Darwaza on the other with abundance of popular tourist places all around from the pages of History. However here I am not going to talk about the already famous tourist destinations like Imambara, Rumi Darwaza etc in the vicinity which people already know.
Whenever we talk about Lucknow or Chowk, the first thing that comes to our mind is Awadhi Food. And why not? Nawabs were patrons of art, culture, and food becomes an important part . And in this Chowk area only, many great Awadhi Cuisines were innovated and gradually came to the forefront of Indian cuisine.
Getting up on a Sunday morning and driving to Chowk to relish the mouthwatering Nimish (widely known as Makhan Malai) Continue reading "Why Lucknow Chowk Must Be In Your Bucket List ?"