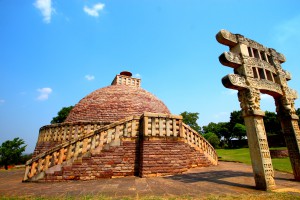 Durga Puja- 2015 is round the corner. It's time for celebration, reunion, meeting old friends, enjoying cuisines of different big and small food joints, going to Pandals across the city. Also it's time to explore new places, interacting with new people, experiencing different customs and traditions. And this urge to explore a new place was haunting me  for last few days which came to an end on my way to Gorakhpur along with my colleague Vishal Saxena on 16th Oct'15. I expressed my interest for a self-driven tour to Madhya Pradesh and Vishal assured me of the condition of the roads. I immediately informed my friend as well as ex colleague Avijit who lives in Indore about our coming to Bhopal on 20th Oct and asked them to join. Completed research on which places to visit, where to stay, distance between places, travel time, road map etc and finalized six places for this tour – Bhopal, Sanchi, Bhimbetka, Indore, Mandu and Ujjain. 
20th Oct 2015: With our Terrano packed with luggage and an excited team comprising Jayasmita, Priyam and my Mother-in-Law, we started our journey at 5.45 am. In such journey, planning becomes important since you are all alone and for the first time I missed out an important thing – the RC copy of my car. Thinking not to take risk and travel with this minor tension all along, I returned home after travelling an hour and restarted our journey at around 7.30 am.The rest of the journey was without any further trouble and credit primarily goes to excellent roads. We crossed Kanpur, Jhansi, Lalitpur, Bina as per schedule and then suddenly got stuck in a traffic jam near Vidisha at around 6.30 pm where hundreds of trucks were stuck on both sides of a narrow bridge over River Betwa. After waiting for over two hours, we finally crossed the bridge and reached Bhopal at 10 pm. Though the journey was long, only comfort was road due to which even after such a long journey of sixteen hours, we still had our energy left to wait for Avijit to join us along with Jonali and their son Abhijay. The reunion after five months since we last met in Kolkata during our last trip to Bhutan in May 2015 brought back the memories of old times we spent in Bhubaneswar while working in Godrej between 2006 and 2008. We went to bed after a quick planning for next day followed by Dinner.
21st Oct 2015: We reached Sanchi which is fifty kilometer north of Bhopal at around 11 am. It was Emperor Asoka who laid the foundations of a religious centre at Sanchi fascinated probably by the location of the hill or because of his Queen Devi, who was the daughter of a merchant of Vidisha. He erected the Great Stupa here after redistribution of mortal remains of Lord Buddha for erecting several stupas all over the globe in order to spread Buddhism. This Stupa was originally a low structure of brick, half the diameter of the present edifice hemispherical in shape with raised terraces at the base. During Sunga Dynasty, it was enlarged along with balustrades and stairway and a stone umbrella at the top. During Satavahana period, four gateway was erected.  This Great Stupa served as a nucleus to the large Buddhist establishment during the later period. Number of stupas of different sizes are around the big Stupa which were raised on the mortal remains of various monks and sizes of each Stupa vary depending on the knowledge and position of those Monks in Buddhist religion. The Stupa is a symbol of high quality architecture with carvings symbolizing the Slokas of Buddhism, life of Lord Buddha and his reincarnations. Here we witnessed an example of harmony. Hindus like us where enlightened to Buddhism and the history of Sanchi and the workings of Ashoka & kings of various other dynasties like Mourya, Sunga, Gupta by a Muslim guide Md. Naseer Ahmed.
After having a quick lunch at around 4.30 pm at MP Tourism Guest House just 500 meter away from the Stupa, we rushed to hotel so as to reach by 6 pm and do some city tours. Bhopal was built by Raja Bhoj of Paramara Dynasty. Bhopal is also known as Bhojpal and later known as city of Lakes. Many also know Bhopal from the infamous Gas Tragedy of 1984 which claimed over four thousand lives. Today only the distant view of abandoned Union Carbide factory reminds us of that tragedy apart from various physiological, neurological and birth disorders people and children living in that area still suffer from.
Then we went to Taj-Ul, the third largest mosque on earth. The mosque is also used as a madrasah during day time. Nawab Shahjahan Begum conceived the idea to build this mosque. The mosque is placed on a high platform with a huge courtyard. The main entrance is 74 feet high. Every year an international three day Iztima is held here where theological and religious discussion takes place. We spent the later part of the evening enjoying the upper lake and then went to a pandal to bow to Goddess Durga. Here in Bhopal we saw Durga Idol with eight arms being worshipped. Also people worship Goddess Kali during Durga Puja. In some places idol of Lord Krishna and Radha are placed along with Goddess Durga. So nice it is to witness the beliefs and imagination of people transformed into idols of different variations which once again proves the cultural diversities of this great land with a connection of unity.
22nd Oct 2015: Today we are going to Bhimbetka which is around forty five kilometer from Bhopal. Bhimbetka is famous for cave paintings and was discovered by Dr. Vishnu Shridhar Wakankar in 1957-58. Out of 750 Rocks, 500 are adorned with paintings. Paintings are primarily demonstrating the hunting, gathering economy, dances, warfare and reflects the tradition of local "Adivasi" villagers of this area.  Our guide Mr. Krishna did all effort to explain the history of this place. The excavations in Bhimbetka have yielded evidences of continuous human occupation from lower Palaeolithic era till medieval era. It is situated 600 meters from Sea level and 100 meters above surrounding planes and is a part of Vindhya range. Apart from the cave and rock paintings, the erosion on the rocks due to wind created some extraordinary shapes and the best one is a tortoise formed on a rock placed on the tip of a large rock. Bhimbetka is a must visit place for anyone going to Bhopal.
On our way back to Bhopal, we took a right turn and drove down thirteen kilometers to a place called Bhojpur famous for an incomplete Shiva Temple. Out of so many Mahadev temples across the globe, this one reflects a unique architecture. Situated on a small hillock with blue sky canvassing the backdrop, the temple houses one of the largest Shiv Linga-s in India crafted out of a single rock with a dimension of 5.5 meter tall and 2.3 meter in circumference. We reached hotel at around 5 pm and checked out and started our journey to Indore which is 178 kilometer from Bhopal.
23rd Oct 2015: Today our destination is Mandu – 80 kilometres to the south west of Indore. We started late since Avijit's son was not well and they could not come. We reached Mandu at around 11.30 am and hired a guide. However with the quality of knowledge the guide had, we had to discontinue him and became our own guides. Thanks to the audio guide facility MP Tourism created at different points and also to some studies we did before coming to the places. Mandu or Mandavgad is a ruined city with palaces and mosques all around. The earliest reference to Mandu is available in the Sanskrit inscription of 555 AD, which tells that Mandu was a fortified city even in the 6th century BC. It gained prominence in 10th and 11th century under the Parmars (who called it Mandavgarh), from whom the control was snatched by Khiljis in 1305. Then ruler Allauddin Khilji named Mandav as "Shadiabad" meaning the city of happiness. The village of Mandu, situated at an elevation of 633 metres is perched on the Vindhya Range.
​
Palaces and forts like Roopmati Mahal, Jahaz Mahal, Hindola Mahal, Jami Masjid, Rewa Kund, Echo Point, Baz Bahadur palace, Ashrafi Mahal adorns Mandav and makes it another "must to visit" destination. We reached Indore at around 9 pm. Though had plan to taste famous chaats of Indore, suddenly started discussing the old days and as usual, it is a never ending chat that continued till 2.30 am.
24th Oct 2015: Today is our last day in Indore and we are going to Ujjain or earlier known as Ujjayini during the reign of Emperor Bindusar Mourya. It was also known as Avanti or Avantikapur. It is also known for Vikram Betal story where King Vikramaditya used to reign. Situated on the banks of River Shipra, Ujjain is a city of pilgrimage with Mahakaleshwar Temple, Kaal Bhairav Temple, Maa Kaali Temple etc all around.
First we went to the Ashram of Sandipani Muni where Lord Krishna along with his brother Balram and friend Sudama came for studies. Our guide Mr. Khandelwal was an aged gentleman with great knowledge and all his explanations reflects the kind of love and respect he carries for this famous place. In this Ashram, one can see a standing "Nandi" in front of the Shiv temple which is unique and the only one such piece on earth. It is said that after getting the news that Lord Krishna came here for studies, Lord Shiva came to meet him and they hugged each other. This union of "Har" and "Hari" was a rare moment and all thirty three crore deities gave a standing ovation and did "Pushpanjali" from heaven. That time "Nandi" who always keeps in sitting posture also stood up and expressed his respect towards his union. While there is no point in challenging mythology and it stands at its own place, I just wonder how seamlessly such stories are passing through generations and today in spite of a world full of science and technology, such stories find their own place which denotes the existence of some supreme power somewhere beyond our mortal reach.
Then we moved to Kaal Bhairav. The interesting thing about this temple is that God is offered liquor (alcohol) unlike other temples to invoke divine blessings. Small and big liquor bottles and other puja items are available outside the temple and devotees buy it and offer to god. This temple ritual starts with the devotee buying a bottle of wine or hard liquor like rum or whisky or local liquors and presenting to the deity. The bottle is handed over to the priest along with other puja material. The priest opens the bottle and put half of the contents into a shallow plate which is placed near the mouth of the idol . Slowly, the liqueur level starts going down and the Priest takes back the plate when all the liquor is finished. The contents of the plate disappears in front of your eyes. It may sound unbelievable, but it is true.
Our last point is Mahakaleshwar Temple. A day before, I established contact with the Temple Secretary through one of our dealer Mr. Anurag Mishra and he arranged for a VIP Darshan which allowed us to bypass all crowds and go straight to the core zone of the temple. It is one of the most famous Hindu temples dedicated to Lord Shiva and is one of the twelve Jyotirlingams, which are supposed to be the most sacred abodes of Lord Shiva. According to legend, there was a ruler in Ujjain called Chandrasena, who was a pious devotee of Lord Shiva and worshiped him all the time. One day, a farmer's boy named Shrikhar was walking on the grounds of the palace and heard the King chant the Lord's name and rushed to the temple to start praying with him. However, the guards removed him by force and sent him to the outskirts of the city near the river Shipra. Rivals of Ujjain, primarily King Ripudamana and King Singhaditya of the neighboring kingdoms decided to attack the Kingdom and take over its treasures around this time. Hearing this, Shrikhar started to pray and the news spread to a priest named Vridhi. He was shocked to hear this and upon the urgent pleas of his sons, started to pray to Lord Shiva at the river Shipra. The Kings chose to attack and were successful; with the help of the powerful demon Dushan, who was blessed by Lord Brahma to be invisible, they plundered the city and attacked all the devotees of Lord Shiva.
Upon hearing the pleas of His helpless devotees, Lord Shiva appeared in his Mahakala form and destroyed the enemies of King Chandrasena. Upon the request of his devotees Shrikhar and Vridhi, Lord Shiva agreed to reside in the city and become the chief deity of the Kingdom and take care of it against its enemies and to protect all His devotees. From that day on, Lord Shiva resided in His light form as Mahakala in a Lingam that was formed on its own from the powers of the Lord and His consort, Parvati.
​
The temple complex was destroyed by Sultan Shas-ud-din Iltutmish during his raid of Ujjain in 1234-5. The present structure was built by the General of Srimant Peshwa Baji Rao and Chhatrapati Shahu Maharaj of the Hindu Pad Padshahi—Srimant Raanojirao Shinde Maharaj (Scindia) in 1736 AD. Further developments and management was done by Shreenath Mahadji Shinde Maharaj (Mahadji The Great) also known as Madhavrao Shinde the First (1730–12 February 1794) and Srimant Maharani Bayzabai Raje Shinde (1827–1863).
When we reached, the Shringar of Lingam just stated and through next two hours, we witnessed the transformation of the Lingam into Mahakaal form of Lord Shiva with Crown, Ear rings, Large eyes, nose, Third eye. The extreme care with which the artist was giving life to the Lingam was unique. While for us it is only a day, for him, it is a daily affair. Everyday this transformation takes place with twelve Shringars in twelve months. After Shringar, the fifteen minutes evening "Aarti" brought an extreme energy into the hall with sounds of Dholok, clapping and chants of people. Still with our mind roaming in the mythological era, we drove down to Indore.
Tomorrow a sixteen hour long journey from Indore to Lucknow awaits us.
We are sorry that this post was not useful for you!
Let us improve this post!
Tell us how we can improve this post?