Gangotri is a town in uttarkashi district in the state of uttarakhand. It is one of the four Dhams (Kedarnath, Badrinath, Yamunotri & Gangotri), a hindu pilgrim town on the banks of river Bhagirathi and is at an altitude of 9700 ft from sea level.
According to Hindu legend, it was here that Goddess Ganga descended when Lord Shiva released the mighty river from the locks of his hair due the prayer of mythical King Bhagirath to wash away the ashes of his 60000 uncles who were perished due to the curse of sage Kapila. Gangotri is also the starting point of some famous Himalayan treks like Kedartal, Gomukh-Tapovan-Vasuki Tal, Audens Col.
Pandu Gumfa: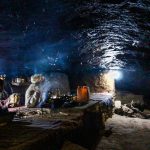 Around 2 km from the other side of the Gangotri temple, this stone cave dates back to the era of The Mahabharata where it's mentioned that on the way to Kailash during Swargarohana, Pandavas did meditation here. Now a days, one sage is staying here for last 12 years. When you visit, you will be offered with coffee as "Prasad" and can spend sometime talking to this baba.
Krishna Restaurant: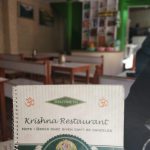 Just below the Mandakini lodge, you can find this most happening pure vegetarian restaurant of Gangotri always crowded by indiand and foreigners. The vegetarian food is quite good and good thing is their try to differentiate their menu from others with a blend of Indian and western delicacies and some experiments. I strongly suggest to taste Pizza, Pasta, Ginger Honey lemon juice, And mashed potato with fried mushroom, ginger and garlic.
Evening Arati at Gangotri Temple: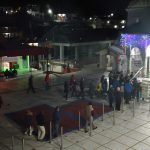 Never ever miss this pure blissful journey of mind and soul. The Arti starts at 6.30 PM and continues for around 30 minutes. The chants and hymns along with the pounding sound of river Bhagirathi on the rocks flowing just beside the temple, the overall calmness is an absolute pleasure. Post Arti, please ensure you taste the bhog from the backside of the temple which is too good.
Trek to Gomukh: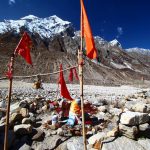 Gomukh is around 19 km from Gangotri and is the source of Bhagirathi river. Adorned by Bhagirath peak-1, 2,3 on one side, Shivlinga Peak on the other and river Bhagirathi flowing with its aura in between this two peaks is an experience to cherish. The entire journey to Gomukh and back to Gangotri can be completed in one day if one starts early. However in case it's difficult to complete on foot, mules and horses are available.
Nature walk: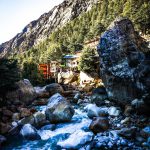 The entire place is a jewel in the mountain and one can walk in any direction to enjoy the flora, burn some calories and allow the place to grow inside. The walk towards Pandu cave through series of trees, jungle is truly enjoyable. Or one can take a walk towards the Gomukh route up to the entrance of Gangotri National Park where there is a small temple. Or towards the Kunds along the river. Or along the river towards the other end. Any direction one walks, he will find some memories to carry with him and cherish forever.
While there are many other places around Gangotri where one can travel like Harsheel, Dharali, Uttarkashi etc, the above places are just in Gangotri and except Gomukh which is little far, all can be covered in a day on foot without even taking any transport.
We are sorry that this post was not useful for you!
Let us improve this post!
Tell us how we can improve this post?