The journey from Dehradoon Railway station to Sankri on 20th December'15 through the lush green forest still wet with the morning mist and last night's little snowfall, through the pine forest spreading their branches like a mother spreading arms for her children, witnessing the first few sun-rays peeping over the mountains and filtering through the pores of pine leaves reminded me the quote of Sir Edmund Hillary -"Nobody climbs mountains for scientific reasons. Science is used to raise money for the expeditions, but you really climb for the hell of it." Like Sir Hillary, there are many who expressed their feelings and love towards the mountains for ages. Whatever is said about mountains, good or better or the best, it's true very people could ignore the call of the mountain when it summoned and was rightly said by John Muir "Mountain is calling and I Must Go". 
Yes, I must go and I am here today. The preparation and planning started around five months before. I was looking for a winter trek just to experience the extreme weather during winter in the Himalayas and finalized this "Kedarkantha Trek" through M/s Himalaya Trekkers. Kedarkantha Trek, as per many reviews, has one of the prettiest campsites covered with carpet of brown pine leaves along the way and mesmerizes anyone who has the slightest love for nature and mountain.
Train got delayed due to dense fog and I finally reached Dehradun railway station at 7.30 am on 20th December by BSB-DDN Express (Train No 14265). The 15 hour journey was comfortable, though comfort was not at all an expectation knowing the kind of life I will have in next 5 days. However sometimes a comfortable journey before a tedious one gives you the required stamina to face the rigorous and treacherous phase. In the train, while talking to my co-passengers, I was surprised seeing that even local people of Dehradoon are not aware of this Kedarkantha Trek nor Sankri which have been destinations for people around the globe for a few famous Himalayan treks like Har Ki Doon, Kedarkantha etc. Other members of my team reached a day before and I found them waiting for me outside the railway station. Seven of us involving myself are travelling together – Anirban Chakladar, Santanu Pathak, Santanu Banerjee, Arpan Roy, Badrinath and his wife Swathi. After a brief round of introduction, we started our journey to the basecamp Sankri.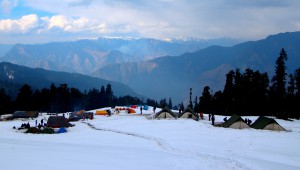 We traveled via Mussoorie, Nainbagh, Nowgaon, Purola, Mori, Naitwar. Mid way we had our breakfast at a small restaurant near Kempty falls. This remote route offered us an amazing view of the mountains with clouds canvassing the backdrop, Tons river along the route, small picturesque villages with well-organized paddy fields with excellent water distribution system. Today luckily weather is also good and we are being able to enjoy the beauty, but was not so a few days before.  Prior to coming, I was checking news of previous groups' trek experience and frankly was a bit worried with news of continuous snowfall for last few days. News was also like due to heavy snowfall, Indiahikes campsite was washed away, one group returned from halfway, though no causalities reported. But must thank those trekkers who responded to my query, assuring me in spite of not knowing me personally. Such is the supremacy of mountains which bring people closer and establishes a bonding among the unknowns.
​
In Nuagaon, the road bifurcates – one goes toward Yamunotri and the other that we took goes to Sankri. One of our team member was not feeling well due to motion sickness that generally happens while travelling in the hills and we were stopping time to time. However that was not at all inconvenient for us since success of such trek lies in teamwork and each one has to look after other members. However this time to time stoppages gave us some relaxation too since seven members plus driver travelling in a Bolero for over ten hours is not at all comfortable and that too in such hilly terrain. Near Mouri, we witnessed a beautiful sunset before reaching Sankri at 5.30 pm.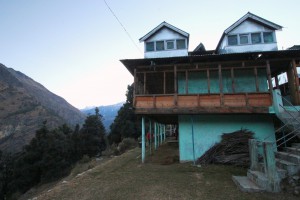 Sankri is a small village around fifteen kilometres inside Govind wildlife Sanctuary at an altitude of 1891 mtr (6204 ft) and is the starting point of some popular treks like Har-Ki-doon, Kedarkantha, Swargarohini and houses basecamps of YHAI, Indiahikes, Himalaya Trekkers and also a few homestays which are used by many other trek organizers as their basecamps time to time. With hardly any telephone connectivity and facilities except a few shops, we decided to spend the evening organizing our daypacks and backpacks for next few days and a small acclimatization walk before dinner which was arranged in a local eatery. During dinner, we met people from some other groups, some are here for Kedarkantha trek and rest for Har-Ki-doon. Post dinner, at basecamp, after a brief introduction with other members who are going for Har-Ki-Doon trek, our basecamp manager Rhik briefed us the schedule, Do's & Don'ts and introduced us to our guide Chan Singh Rana who with his team will be with us till the end of this Kedarkantha trek.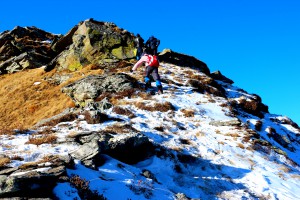 Though as per many reviews and trek organizers' report, Kedarkantha is an easy trek, personally I feel this should be termed as moderate during winter season considering the continuous steep climb one has to undertake in 2-1/2 days till the summit, snow filled routes, cold weather (sometimes goes below -10 to -12 degree) and of course the last few hundred meters before the summit where it is over 60 degree inclined. Also except a few, other trek organizers are not making Gaiters and Crampons compulsory during winter but optional which is a serious matter and is against the safety of trekkers and must not be compromised. Also many are trekking with sports shoes / jeans and being allowed by these agencies which must be stopped since many of these trekkers are novices/ students and do not know the rules / obligations / probable dangers and organizers must educate them instead of allowing them to trek in such gears just for commercial reasons.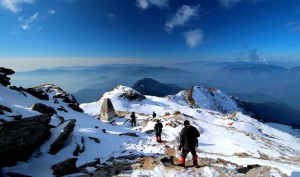 With moon adoring the sky, the view of the silhouette of the majestic mountains on the other side of the basecamp with blinking stars in the sky made the whole atmosphere a night to remember. I was trying to find Ursa Major or Big Dipper to try some star trail photography. But due to bright moonlight could not find the same and finally saw it early morning when we got up but was not having time and also thinking of spending five days with no spare camera battery, I had to drop the idea.
After having a quick breakfast and a group photograph, we started our trek at 9 am. Today's destination is Juda-Ki-Talab (2741 mtr / 8992 ft.), around four & half kilometres from Sankri. Though four kilometres sounds less, estimated time to cover this distance is 4 to 5 hours considering the steep climb. Just after walking five minutes, we encountered steep climb and slippery path which was a sudden blow since we were not expecting this so early. However with some effort, we crossed that stretch and then gradually with every passing minute, our legs and breath started following a rhythm and we continued walking.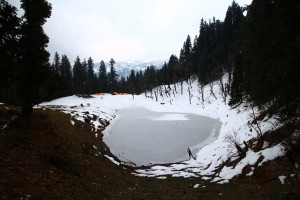 The journey to Juda Ki Talab through the pine, maple and oak forest, enjoying graphics created by snow on the leaves, fallen trees and roots and trail covered with snow was excellent. Most of the path was in shadow and we had to again and again take off our UV sunglasses. Midway we stopped for lunch in an open area which is used by almost all trekkers for lunch. Three heavily furred street dogs were moving with the trekkers from the basecamp (they went up to the summit) and were changing their positions with various groups. We named them Whisky, Rum and Vodka for their colours. Post lunch we started our journey again and now it started looking like a never ending path. The standard reply from the guide to our query about distance has been the same "another half an hour". Frankly it is that distance only, but for the guides only and not for us. We become 1/5th efficient in the hills than what we are in plains and it is quite proven now at least to me with similar experience I faced during Roopkund Trek last year. And this sense of inefficiency sometimes becomes one of the reasons for unforeseen events and hence accepting this hard truth and work as per one's own ability and not trying something impossible is important to have a safe comeback. My father always tells that Mountain never forgives and shows what you actually are. It is we who have to accept this and should not attempt to conquer mountain and but feel fortunate after every summit and bow to this majestic mountain for letting us climb it through its terrain which very few people are lucky enough to experience.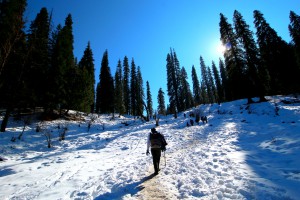 The site of YHAI campsite just 300 mtrs before our campsite finally brought a smile and with renewed vigour I started walking. But this 300 meters was quite difficult considering ankle high slippery ice and snow along the way and walking without a crampon was becoming difficult. The first glimpse of frozen Juda ki Talab finally brought an end to today's journey. Juda ki Talab campsite is at an altitude of 2741 mtr (8992 ft) adorned with pine, maple and oak trees around the lake which is now frozen with sub-zero temperature. Chan singh and his team was quick enough to arrange some logs, lit bonfire and arrange for tea and Maggie. With tea in hand, we were the silent observers of a beautiful moment with sun setting behind the horizon leaving behind a trail of last few golden rays that gradually disappeared and darkness fell in the woods. Suddenly temperature dropped below minus 5 degree and we all started shivering and gathered around the bonfire. A few trekkers from Indiahikes and other camps also assembled in our camp since bonfire was not allowed in their camps and we had a nice time together. Finished our dinner at 7.30 pm and entered our respective tents and got into the sleeping bags. Tomorrow we will be moving to the next camp – Lahusa or Khetrataal which is the last camp before the summit. In high altitude with less atmospheric oxygen, sleeping is always a problem and we were no different and could not sleep for more than 4-5 hours. However with our body and mind ready for the next task, we quickly packed our day-pack and started our journey at 9 am after a quick breakfast.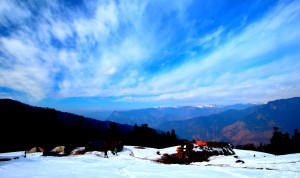 Our journey of 4 km came to an end quite early than we imagined and we were initially pleased with our endurance but then learnt that we actually covered only 2.5 km and have to camp here only since the predetermined campsite which is another 1.5 km away is totally covered with snow and camping on snow would be difficult considering the temperature that would fall below minus 15 degree at night and also source of water. Therefore with no other options available, we camped there with full day with us to acclimatize, however with an adverse side effect.  Tomorrow we have to walk 1.5 km extra to reach summit which will be very strenuous considering the steep climb of around 60 degree. But why to worry for tomorrow when you don't have any option and more so when the spellbound landscape of Khetrataal is before you and welcoming with open hands. With bonfire and hot tea, we enjoyed the beauty of the majestic Himalayas and Yamunotri range of mountains. Other teams also camped here. One can find some wooden huts which are used by the villagers during summers when they come here to gaze their cattle and also wood picking. Now these huts are empty and we collected a few logs just to sit around the bonfire though were strictly cautioned by our guide not to fire these.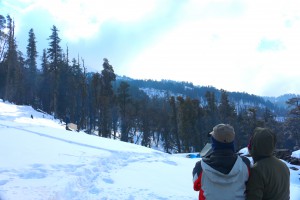 Two of our teammates Anirban Chakladar and Santanu Pathak went for an acclimatization walk and came back with news that the path is extremely slippery and not at all possible to trek unless crampons are used. Initially there was some resistance from our guide Chan Singh who was giving examples of other people but finally agreed after our non-stop insistence and spoke to Indiahikes team to lend us 7 pairs of Crampons at a cost of Rs. 100/- to which they agreed and a sigh of relief finally came. (Worth mentioning, this decision was actually the key reason which helped us summit Kedarkantha and I will be thankful to Anirban Chakladar and Santanu Pathak for their initiative to partially explore the route before the summit. I have also written to M/s Himalaya Trekkers and other organizers requesting them not to compromise on safety matters and ensure usage of gaiters, crampons and other trekking gears compulsory and not optional. I also requested them to keep some stocks with them at any point of time and lend the same to trekkers in case novice trekkers decide not to bring the same along with them due to ignorance etc.).
Watching the sun setting behind the horizon and the last few rays adoring the clouds that formed in the later part of the day giving a kind of anxiety about tomorrow, we sipped coffee sitting by the bonfire while discussing the probable weather and our chances to make it to the summit. However assurance from Chan singh relieved us and we went in to the sleeping bag after an early dinner.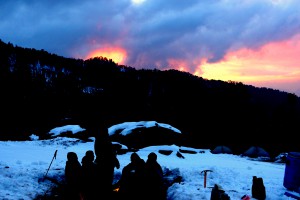 23rd December 2015 started quite early at 4 am when all of us got up after an uncomfortable half slept night and got ready with our daypack, headlamp, gaiters and crampons. The sky was clear with thousands stars glittering above and we appreciated the reading of our guide Chan Singh. Chan Singh and many other guides like him are the true heroes of the mountains who know the mountains, mood of the sky, can read weather from their experience only without any formal training and their reading hardly go wrong and one can't imagine such treks without their help. Similar was my experience with two other guides Sanjeev and Dinesh of Trek the Himalayas during my last year's trek to Roopkund. Silently they observe, effortlessly take precautions and efficiently guide even the most novice trekkers to the summit and ensure safe comebacks which is just incredible.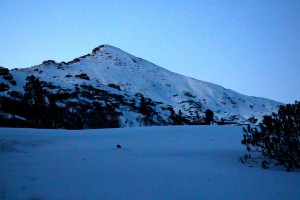 We continued walking through the ankle high, somewhere almost knee high snow filled trails and ridges. The path seems to be never ending and gradually body started giving up when we saw the Kedarkantha peak. With daylight breaking and sunrays falling on the Swargarohini, new energy developed and mind overpowered body and we started walking again. Though Kedarkantha peak was in front of us, we had to cross three more small hillocks before reaching the final destination. And a never give up will dominated most of us.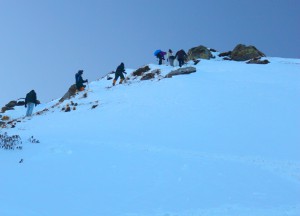 Two of our teammates gave up when we were to climb another 1000 ft only due to some AMS (Acute mountain sickness) symptoms developed with them like headache, vomiting, nausea, stomach ache etc and they finally descended. Along the way, we saw some more members from other teams suffering midway due to lost breath, cold due to heavy wind-chill and above all the steep climb which many were trying to climb without proper gears. At some points, the steep was almost 90 degree and we had to leave our poles and use hands/palms to hold the rocks and climb. Applying all possible methods and options, we finally reached the summit at 10 am and within no time, all our exhaustion of last five hours came to an end and the reason is nothing but the astounding unbelievable 360 degree vistas of mountains around us. With Swargarohini, Bandarpunch, Kaalnag peaks on one end, Yamunotri range on the other, blue sky one can only imagine or see in fairy tales, tip of dry Rhododendron plants decorating the snow, the entire atmosphere just turned into a paradise and I just thanked Kedarkantha for letting me cherish it's beauty.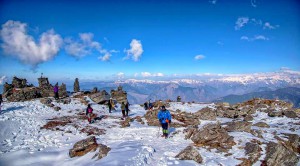 As usual, good things do not stay for ever and it's time to come down. After spending around 30 minutes, we started our journey back to Juda Ki Talab. Earlier only we decided to bypass Khetrataal camp and go further down on the same day and reach Juda Ki Talab which will lessen our next day's trek to Sankri. The descend is more painful considering strain one experiences on his thighs and knees and also after heavy strain already undertaken during upward climb. But with no option in hand, we continued, sometimes we glided down which was fun and finally reached Khetrataal where after having a few quick bites, we continued descending and reached Juda ki Talab at around 3 pm. We were totally exhausted after almost 10 hrs walk and sat beside the bonfire. Within 30 minutes heavy snowfall started and Juda ki Talab became completely white with fresh snow and people from other camps who will be moving to Khetrataal tomorrow started playing on the frozen lake and we were no exception. Before putting our foot down on the lake, we threw some big stones on the ice just to check the strength and when satisfied, dared to put our foot down.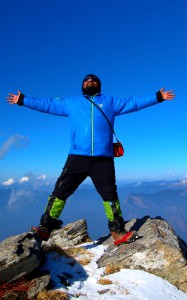 Evening was amazing with songs, recitations around the bonfire and of course with some excellent delicacies prepared by our team followed by sweets. It was an atmosphere of celebration, it was time to rejoice, it was time to say good bye to the wonderful routes we covered, trails we measured on foot, bonding we cherished in last few days, pains we shared; it was time to say good bye to the woods, forests, mountains and The Kedarkantha Peak. Tomorrow we will be moving to Sankri and day after tomorrow to Dehradoon to catch trains to our respective place of work. I will be missing all of these but going back with new friends, going back with new experiences, going back with a deeper sense of love towards nature and mother earth.
​
It is also time to look for some new destination, look for some place off the beaten track. Till then Good Bye !!
We are sorry that this post was not useful for you!
Let us improve this post!
Tell us how we can improve this post?