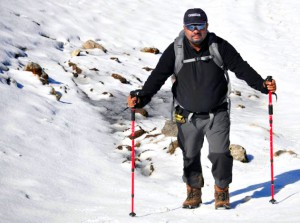 "I had an inheritance from my father
It was the moon & the sun
I can move throughout the world now
The spending of it can never be done"
I always had an infatuation for Mountains…the lush greens, the snow the people have always been a matter of attraction for me. The allure of the snow caps, morning sunrise is impossible to ignore. More so when it is the Himalayas, it takes me to a different world altogether and this time I wanted to experience it with a closer view and thus decided to venture this High Altitude Trekking of Roopkund – the mystery Lake. Roopkund is a high altitude glacial lake in Uttarakhand state of India, lies in the lap of Trishul massif and famous due to hundreds of human skeletons found at the edge of the lake. The location is uninhabited and is located at an altitude of about 5,029 metres (16,499 feet).The lake is surrounded by rock-strewn glaciers and snow clad mountains, making it a good trekking destination.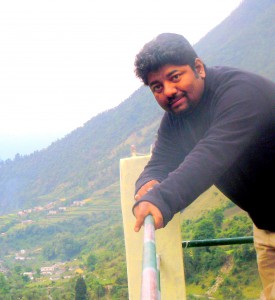 A shallow lake, having a depth of about 2 metres, Roopkund has attracted attention by having human skeletal remains easily visible at its bottom when snow melts. There are many theories and opinions, from purely spiritual to purely scientific ones, which explain the existence of these skeletons, which date back to 9th century CE. Because of these skeletons, the lake is also sometimes called as Skeleton lake in recent times. Since I was alone, I was put in a group of Pune and Gulbarga by the organizer "Trek The Himalayas".
It was a wonderful experience with all the group members who are quite experienced in trekking. It was also a matter of pride to be with Mr. Sanjay Katti whose rich experience in expedition to Mt. Everest and various other peaks gave me the confidence. Worth mentioning the warm welcome from Dr. Suhas Alekar, Mahesh Medhekar, Rajendra Vartak, Rajit Anand, Sandeep Sawant, Vijay Hinge, Manjusha Somani which made me so comfortable in the group. 
I reached one day before to Kathgodam on 17th May and explored the nearby areas and joined the group on 18th May in Kathgodam Railway Station for onwards 9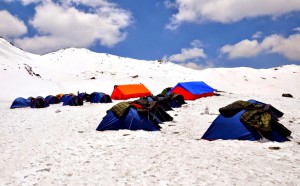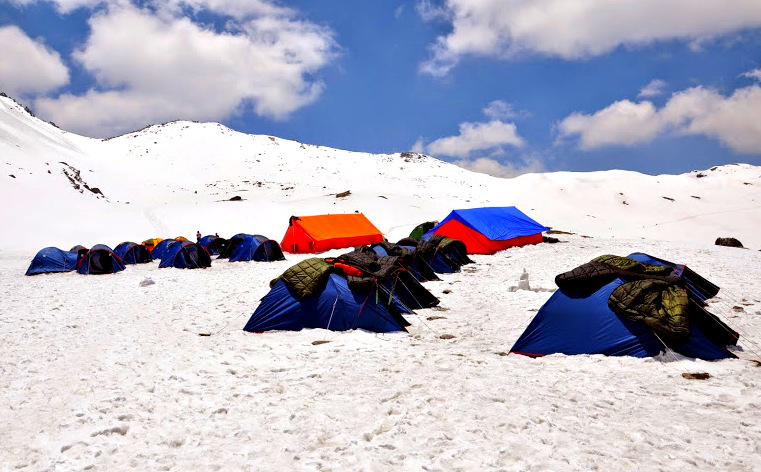 hrs journey to the Loharjung Base Camp(7575 ft). We reached Base Camp at around 3 pm and started exploring the surroundings. In the evening Gulbarga team arrived and we completed our introductions as coming few memorable days we will be spending together which will become a time to cherish in coming days. After our trek leader briefed us about Dos and Donts, we packed our backpack and went for a sleep dreaming of tomorrow. It is worth mentioning the endevour being put by these organizers to keep the mountains clean. We were all given a small pouch to be hanged in the belt to put the trash like chocolate wrappers etc. They also announce various prizes for the winner who collects maximum number of such trashes.
On 19th may early morning after breakfast, we started our journey. Our today's destination is Didna Village which is a 5 hrs distance with 2 hrs descent and 3 hrs ascend. I looked forward to seeing the most physically revolting version of myself considering we wouldn't be bathing for more than a week. I wanted to find out as I did the daily gradual ascent and occasional descent, whether I would lose my temperament or take it in my stride. I got all my answers and then some.
The uphill climb was a mood tester. It was tough but we made it. There were some cheery faces and some sullen ones including mine towards the end. But everyone brightened up at the sight of Didna village. The excellent guidance from our trek leader Sanjeev helped me to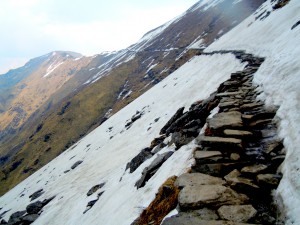 overcome the mental blockage and achieve the first target. The acclimatization climb broke the ice between the group. When darkness fell in the woods, it was so absolute, the sky showed its deference with all the stars in all their own glory. The remarkable aspect of being in such a place devoid of technology is that every experience, visual or cerebral is accompanied by a dash of authenticity.
The days went on and I became more and more accustomed though with difficulty. It is something like a fight between your physical stamina and mind and mental stamina plays a greater role. We trudged along beautiful vistas of lush forests, sparkling streams, endless meadows. Our trek leader, Sanjeev, Mahadev, Dinesh were always cheerful, energetic and helpful. They belong to the mountains, enjoy being there and make others enjoy the nature. We passed Ali Bugyal, Ghora Lotani, Patharnachini and reached our first camp on snow, Bhagwabasa. In between we enjoyed a heavy snowfall in Patharnachini. Sleeping in a sleeping bag in a tent gave me fitful sleep
Summit day was by far the most physically demanding one. Towards the end, I was not within myself and was walking as I have no other option to go back. It was difficult. It was exhilarating. I felt alive. Roopkund lake was something unforgettable. Because it was frozen, we couldn't see any skeletons however the scenic beauty from 15K ft altitude is something which I cannot forget ever. 
The summit took us about 4 hours to cover 3 km, but the local kitchen staff ran up and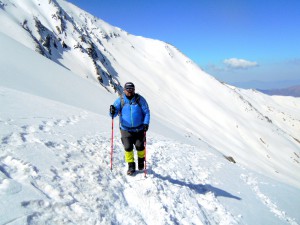 caught up with us within thirty minutes with our breakfast! It was difficult to imagine how humanly it was possible to reach in 30 min when  we take 3 hrs. They don't seem to have human blood flowing through their nerves. The way down was interesting as well as risky as the snow started to melt and I was escorted by Dinesh, our trek leader since Sanjeev had to escort the Gulbarga team down as they gave up to climb further after reaching Patharnachini.
We descended for the next two days and reached "Wan Village". A distant view of Automobile brought me back to the civilized world and I started feeling a sense of ending. We cherished the evening in the base Camp of Wan-Village. The owner was a charming person. We had hot water bath which we missed for 7 days and got ready for a Drinks Session which we missed during the trek. Alcohol and Smoking are the two most dangerous catalyst to spoil your metabolic system, specially in high altitude. We dined with Chicken and went on gossiping till mid-night, sharing own experiences, learning from others…. gradually a sense of ending engulfed the team members – Tomorrow we will be leaving…
We are sorry that this post was not useful for you!
Let us improve this post!
Tell us how we can improve this post?