Situated in Guntur district of Andhra Pradesh, Kotappakonda is a holy hill considered sacred by many. It is approximately 100 km from Vijayawada. The Kotappakonda Temple is dedicated to Lord Shiva, named after the trinity of Brahma, Shiva, Vishnu and thus known as Trikoteswara Swamy. Upto the Nabagraha temple, there are cemented stairs and then one has to trek to go to the peak of Rudra Shikhara, where the original temple of  Lord Kotayya  is located.
The legend of the hill goes like this – Sundudu, a cattleman, with his wife Kundiri used to live towards the south of the Trikuta hills. They became rich soon after the birth of their first child, a beautiful daughter, Anandavalli(Gollabhama).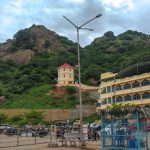 Slowly she became a great devotee of Lord Shiva and started spending most of her time offering prayers to Lord Shiva at the Old Koteswara Temple located on Rudra hill. Eventually, she lost all interest in her materialistic life and started penance for Sri Koteswara Swamy.  She used to visit Rudra hill every day, even during the scorching summer, to offer prayers to the Lord. Pleased with her penance, Jangama Devara appeared before her. Sympathized by her penance, Jangama Devara blessed her to be a pregnant, though she was a spinster. Unmindful of her pregnancy she carried her daily prayers as usual. Stupefied at her deep devotion, he again appeared and told her that she need not take so many troubles to perform pujas and offer prayers, and promised her that he himself would come to her house where she could do her penance and commanded her to proceed towards her home, and that he would follow her, but advised her not to look back even once on her way to home, in spite of whatever happens.
From Rudra hill, Anandavalli proceeded towards her home and after reaching Brahma hill, she lost her patience and turned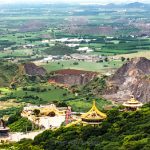 back. The moment she turned back, breaking the promise she made, Lord Jangama Devara immediately stopped where he was, at Brahma hills and entered into a cave on that hill and turned himself into a Lingam. This sacred placed is famous by the name New Koteswara Temple. She then realized that her pregnancy was the creation of him, to test her devotion towards him. She felt happy as she got through all the critical trails and became one in the God. (source: Wikipedia). While I personally do not believe in such legends, what attracts me more is how these stories/tales took birth hundreds of years ago and how seamlessly are passing through generations.  It is a few days now since I visited Kotappakonda but something is still pulling me back and hence thought of writing a few lines on this mystical hill and temple with information from a few sources.
Kotappakonda hill is visible with its three peaks from any direction and hence known as Trikuta Parvatham also. The three hills are Brahma hill, Vishnu hill and Rudra hill. Old Kotayya temple is located in Rudra Shikharam. This is the first place where Trikoteswara Swamy existed and after seeing the great devotion of Devotee Gollabhama, Trikoteswara Swamy came to Brahma Shikharam and stopped since Anandavalli turned back. In Brahma Shikharam, the main temple of Trikoteswara Swamy Temple is located now a days after He came down from Rudra Shikharam. In Vishnu Shikharam, Lord Paapanaseswara Temple is located. It is believed that Lord Vishnu did penance for Lord Shiva.
There is another interesting legend on this hill. When goddess Sati got the know about the Yajna her father Prajapati Daksha is performing and didn't invite Lord Shiva, Sati decided to go to her father's home, even though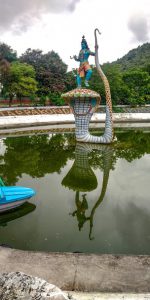 she was previously prohibited from doing this. She could not tolerate the kind of disrespect and decided to immolate herself in fire. When Lord Shiva got the news, He was furious and ordered Veerbhadra to stop the Yajna. Veerbhadra did as instructed and thereafter killed Prajapati Daksha and carried the body of Sati across heaven and earth that we all know. Later Lord Shiva performed penance on himself at the hill, which we now know as Maheshwara Sikhara or Rudra Shikhara, to get peace of mind.  Thereafter, to make sure that Lord Shiva is back where he belonged ie, the Kailash, Lord Vishnu and Lord Brahma did penance on 2 other hills, now known as Brahma Shikhara and Vishnu Shikhara. The wish was granted by Lord Shiva. Following this, Lord Vishnu suggested performing Abhishekam, and to do this, Lord Shiva pierced the mountain with the help of his Trident and gave rise to a pool. This became holy Teertha, and Lord Shiva took a holy bath in this water and then proceeded to Kailash. It is now believed that if one takes a bath in this holy water, he is free from all his sins.
Another amazing part in such legends are, how the connections are created among various legends that makes one sometimes believe in these or at least believe in some supernatural powers present somewhere.
*********************************************************************************
We are sorry that this post was not useful for you!
Let us improve this post!
Tell us how we can improve this post?