So many stories across generations starting from the time of Mahabharata are there behind this name "Vijayawada". Bejjamwada, Vijayavatika, Vijayavata, Beejapuram, Kanakaprabha, Kanakapuram, Kanakawada, Jayapuri, Vijayapuri etc are a few of the names among many, this city was called since time immemorial. Today not just for names it is famous, but just the spirit of development has earned Vijayawada a fame in the pages of modern economy. It's almost a year now I landed in this city and since then visiting places of interests and sharing list of top five places one must not miss to visit when in Vijayawada
Places in Vijayawada:
Kondapalli Fort: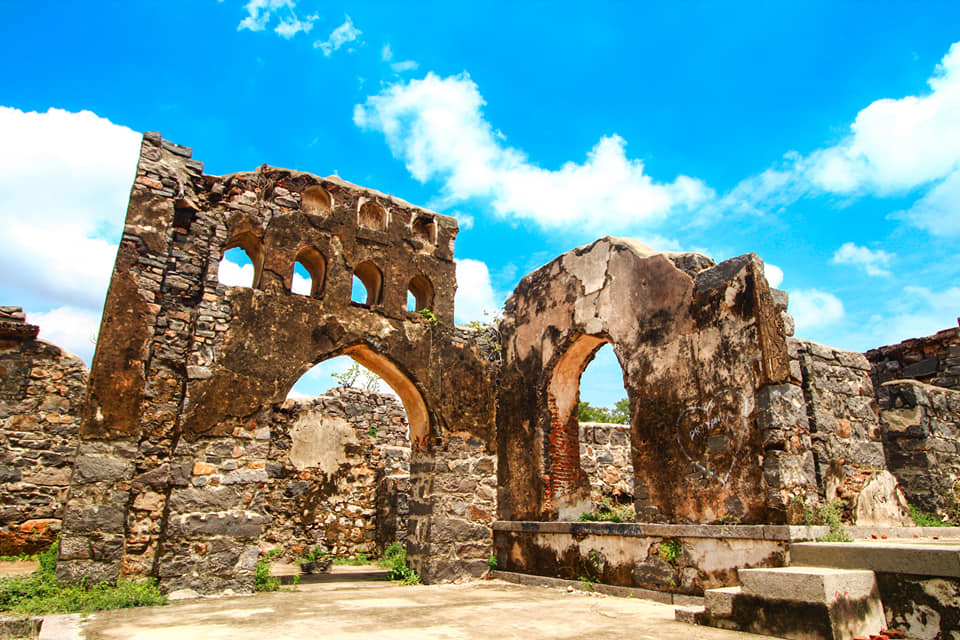 Locally known as Kondapalli Killa is situated on Kondapalli Range of Eastern Ghats near Vijayawada. During 10th century, it was a vital post of the Chalukyas which later was fortified by the Reddys during 14th Century. While most of the fort today is in a ruined state, Durbal Hall, Rani Mahal, Royal Prison, Toph Khana, constructed during the Qutb Shahi period, are still in a better shape and also being taken care of by the govt. (It's a nice place for a half day tour. However carry food while going as there is no food joint nearby except two tea stalls)
Undavalli Caves :
Dedicated to Anantha Padmanabha (Ananta Sajya of Vishnu) and Lord Narashimha, Undavalli caves is one the finest rock cut architecture, built during 4th-6th Century by the Vishwakarma Stapathis under the rule of Vishnukundi kings. There are above 1500 rock cut architecture in India, the highest in the world and Undavalli caves is one among those like Ajanta, Ellora, Udaygiri, Barabar caves, Bhimbetka etc…
Prakasham Barrage: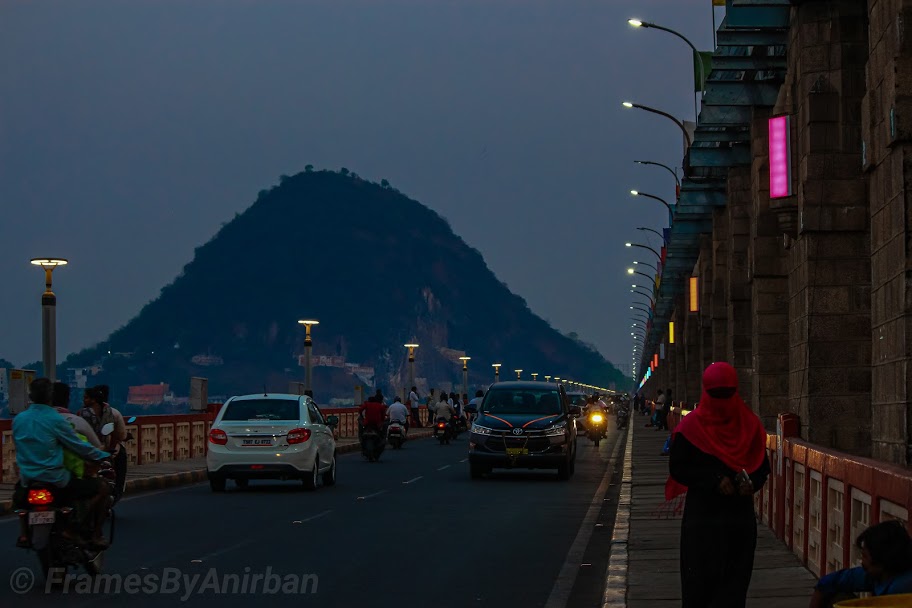 Constructed in the year 1855, this 1.2 kilometer long Prakasham Barrage connects Krishna with Guntur. From the barrage, there are two hillocks visible. The Legend of the hill goes like this. Since Lord Indra often used to visit this place, hill is known as Indrekeeladri. After originating from Mahabaleshwar in Western Ghats, River Krishna was on her way to meet Bay of Bengal when this Indrekeeladri Hill stopped her flow. That time Arjuna was praying Lord Shiva for Pashupatastra in this hill only when river Krishna requested Arjuna to help her and Arjuna with his arrow made a Bejjam (hole) in the hill and river Krishna continued her journey. And the place became famous with the name Bejjamwada which later became Vijayawada.(one of the several stories behind the name Vijayawada).
Kanaka Durga Temple: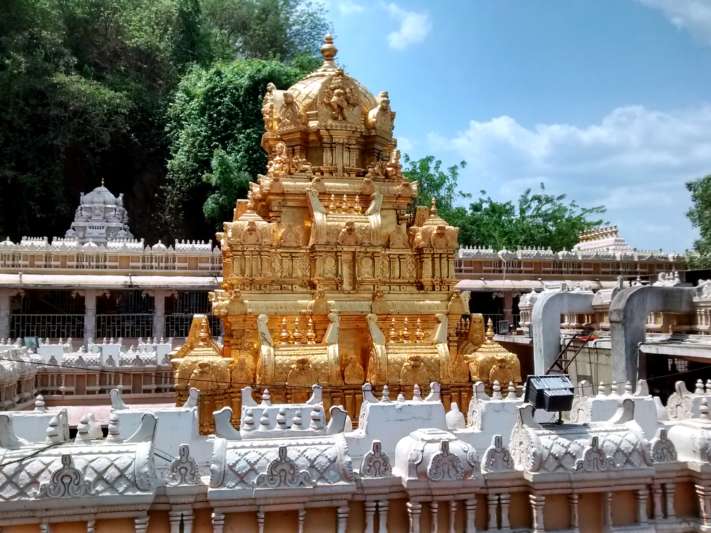 Constructed by Arjuna after being blessed with Pashupati Astra in this hill of Indrakeeladri, Kanaka Durga Temple is a famous hindu temple that found its place in Kalika Purana, vedic literature and Durga Shaptashati.  Another popular legend is about the triumph of goddess Kanakadurga over the demon King Mahishasura. It is said that the growing threats of demons became unbearable for the natives. Sage Indrakila practiced severe penance, and when the goddess appeared the sage pleaded Her to reside on his head and keep vigil on the wicked demons. As per his wishes of killing the demons, Goddess Durga made Indrakila Her permanent abode.
Bhavani Island: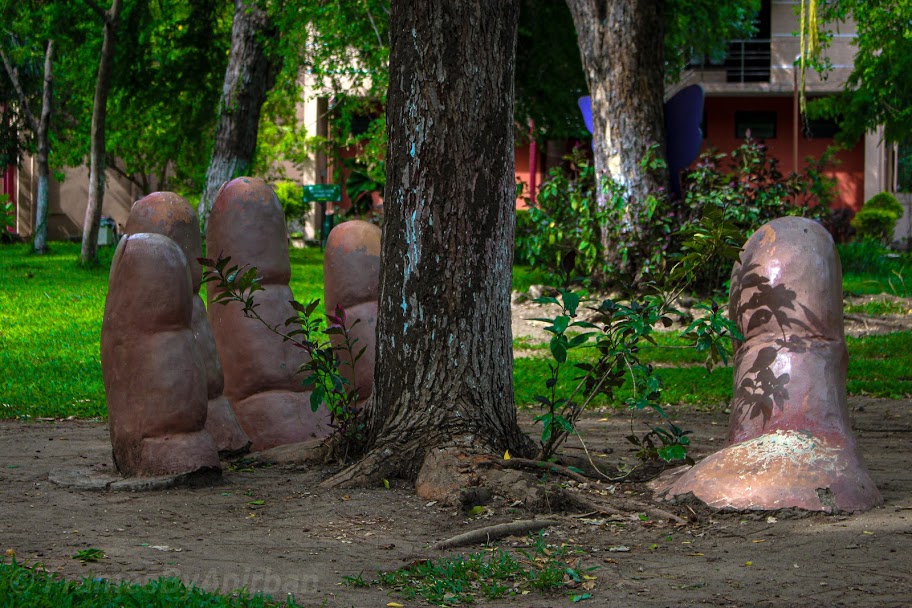 Situated in the midst of River Krishna, it is one of the largest river island in India. Developed and maintained by AP Tourism, the island hosts a resort, activities for tourists. The short boat ride from the foothill of Indrakeela gives one some good view of the river, especially while returning during sunset. Now the area has been developed with some food joints and one can enjoy a pleasant evening after returning from the island.
Places around Vijayawada:
Amaravati : Fifty kilometer from Vijayawada, Amaravati, located on the bank of Krishna River, proposed to serve as the new capital city of Andhra Pradesh, is presently under a lot of controversy. The area has its historical significance of having recorded it's first-ever legislation 2,200 years ago. The area has been ruled by the Mauryas, Satavahanas, Ikshvakus, Vishnukundina, Pallavas, Cholas, Kakatiyas, Musunuri Nayaks, Bahmani Sultanate, Vijayanagara Empire, Sultanate of Golconda and Mughal Empire successively before the founding of the Nizam of Hyderabad in 1724.
Amaravati Stupa :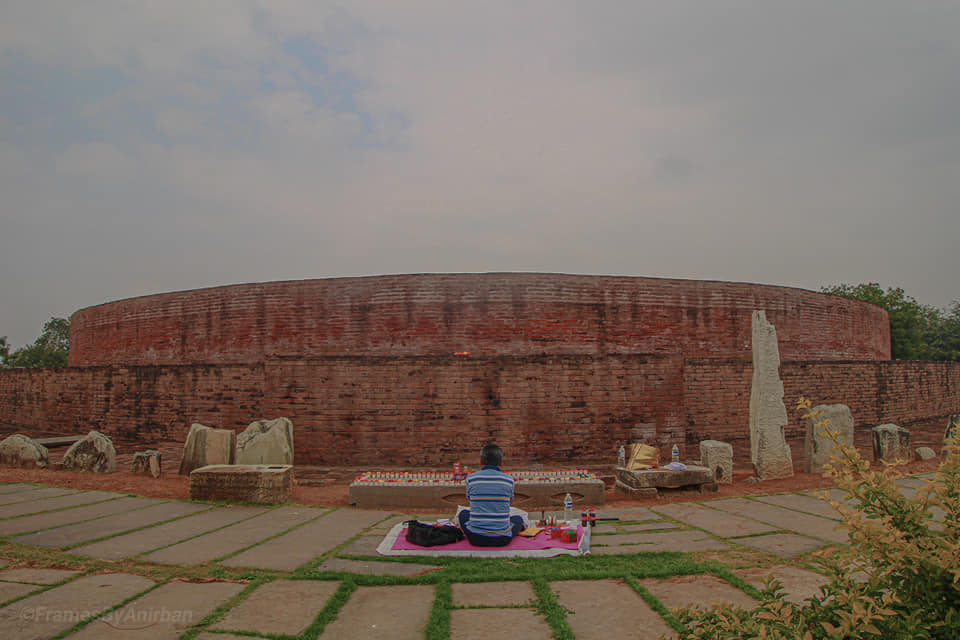 Probably built in phases between the third century BCE and about 250 CE, at Amaravathi village, the site is under the protection of the Archaeological Survey of India. The campus includes the stupa itself and the Archaeological Museum just 50 meters away. It is said that the collar bone of Lord Buddha was placed here and an important pilgrimage for followers of Buddhism.
Dhyana Buddha Statue: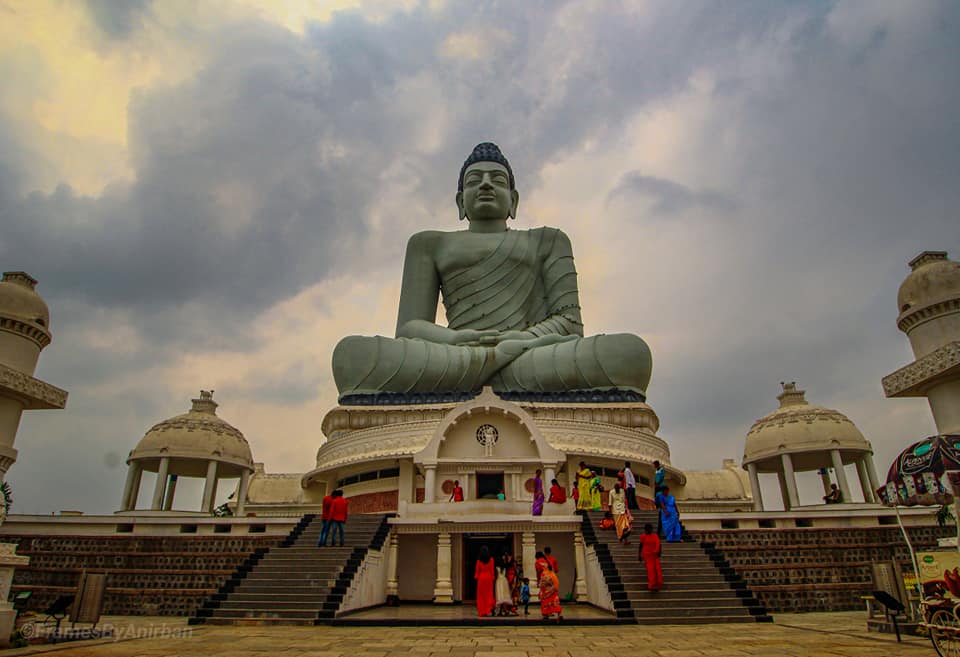 A 125 ft tall Statue of Lord Buddha just 1 km away of the Stupa was completed in 2015. The statue has a museum in the base underneath it, which consists of sculptures depicting scenes with Buddhist significance, most modern copies of the original relics from the Amaravati Mahachaitya stupa which are now in museums around India and the world.
Amareshwara Swamy temple: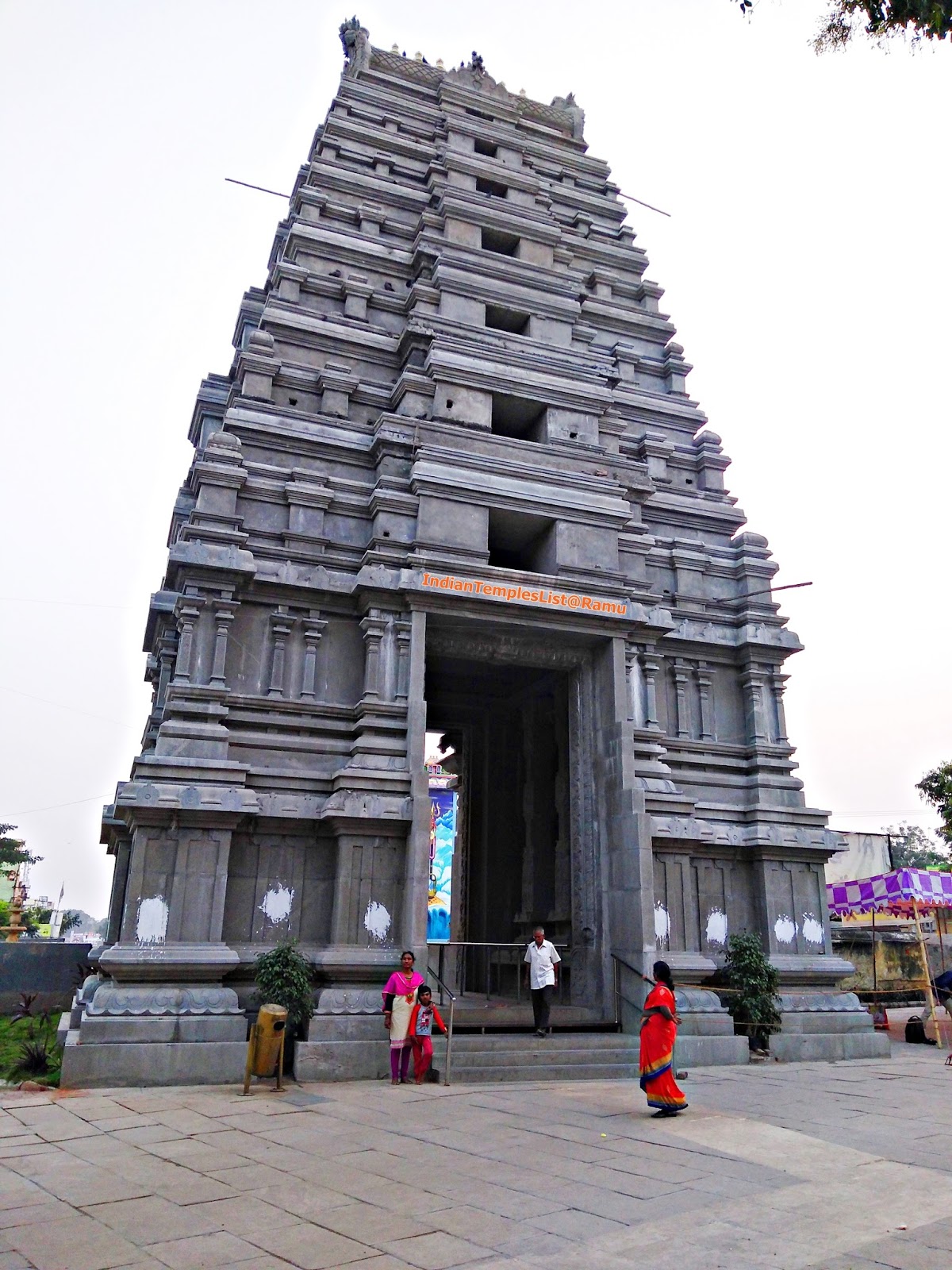 One kilometer away from the Stupa on the bank of Krishna river, this Shiva temple is one of the five Shiva temples of Andhra Pradesh one must visit and known as Pancharama Kshetras. Legend is, the shiva linga was growing in size and to stop that, a nail has been put above it. When the nail dug into the Linga, blood started to ooze from the Sivalinga it seems. The stain can be see even today.
Chirala: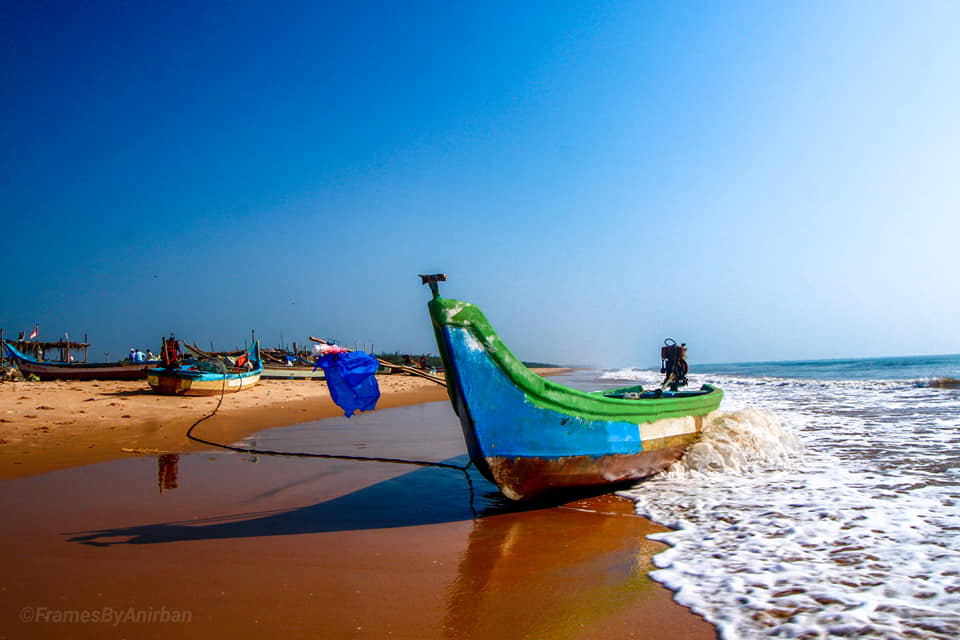 Around 100 km from Vijayawada, on the coastal belt of Andhra Pradesh lies the city of Chirala. The name is derived from "Chira" means Saari as this city houses large number of looms and local named it "Small Bombay". One may not find his or her dream beach here, especially if returning from Vizag but can enjoy a serene atmosphere with no hustle bustle of city life. Mostly occupied by fishermen, this beach is yet to turn out to be popular tourist destination. The only decent hotel is Sea Breeze with 60 rooms. However with a few hotels now under construction, in coming days Chirala may turn out to be a tourist destination.
We are sorry that this post was not useful for you!
Let us improve this post!
Tell us how we can improve this post?