If any place on earth can make me believe that poetry has a shape or physical presence, I can't think of any other place but Kashmir. Gar firdaus bar roo e zameen ast, hami asto hami asto hami asto – these lines of Amir Khusrau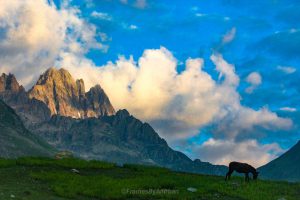 uttered thousands of time re-establishes this very fact again and again. Kashmir is not just a piece of land where one can go and come back with some memories captured in a DSLR or cellphone but a sense of living that grows within with every passing moment. In love for nature or tears that flow seeing the endless beauty, in every turn one takes or every obstacle one faces along the path of Kashmir, every man and women one meets or every shikara ride one takes in Dal or Nagheen lake or every seller that connects his shikara to yours in the pursuit of some sale, poetry resides in various formats. Just to take example of Manzoor bhai of Lee Heritage hotel who settled in Srinagar 37 yrs before after staying in kolkata for 15 years. He is one person who truly made our one night stay in Srinagar so lovely and peaceful that we will remember for days to come. Or take example of Adil, a shikara owner who has so much to express, so much to do but situation not allowing him. And still he carries a hope for a better tomorrow. One just has to have the eyes to witness that poetry, ear to listen to that symphony and heart to feel that rhythm that is flowing through the veins of this land for generations with their saga of love, sorrow, betrayal, anarchy and still continue carrying the tunes of those poetries with a hope for a new dawn.
With rain making the trails slippery, it's not at all an easy task to trek and that too when we were late for reasons*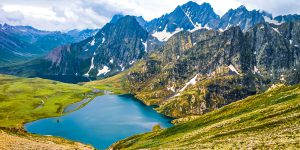 that will keep us angry for years to come. Still in search of that poetry we continue our journey and reach Table top where having a few bites of bread omelette is like a grand meal at Taj. And then starts the journey for Nichnai to camp on the first night. When organizer failed us miserably putting the lives of thirty six trekkers at risk, poetry again comes in a different form where men and women creates a connect to come out of this misery with a winning smile and in spite of unpardonable fault by the organizer, support staffs don't hesitate to pull the chord in our favour which made this trek successful. We trekked for over six hours next day and reached Vishansar. Vishansar and Kishansar Lakes are two high altitude alpine lakes holding great importance to Kashmiri Pandits and are considered as lakes of Lord Vishnu and Lord Krishna. Both these lakes are visible together when one starts ascending to Gadsar Pass. Basic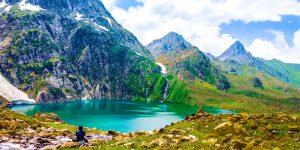 needs sometimes are so strong that narratives are created to satisfy those needs and we face similar situation before Gadsar Pass where fear factor is created in a structured manner. In spite of Gadsar pass not being extremely difficult, mentally trekkers were weakened by some starting from the food seller in Nichnai to guide to horse owners on the way so as to avail the services of horses and some of us ended up taking a horse ride to the top of Gadsar Pass. Gadsar in Kashmiri means lake of fishes – a habitat for trouts. Also known as Yemsar ie, lake of Yama (death) due to local rumours and myth of a demon staying in this lake which pulls the animals if found roaming near the lake. Whatever be the myth, the beauty of this lake fed with glacial water from the surrounding makes it another poetry one can sing for long.
Trekking on a trail at a stone throw distance from POK with Nanga Parvat and mountain range from POK overseeing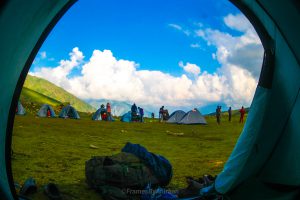 us is an experience and that too with sights of some abandoned Pakistan bunkers. We finally reach Satsar camp where again poetry takes it's new wild form through rain and hailstorm. Standing inside the kitchen tent and holding it with all might so that it doesn't blow away with wind gave us a bone chilling experience. Words are not enough to express that fear we few were going through in that one hour but later thinking of those moments gave goosebumps that will renain at least with me for years to come.
Next day we hike through bolder zone and finally reach top of Jaz Pass and instantly forget all pain seeing the twin lakes of Gangbal and Nandkol. It looked like God has created a poetry with His own hands. Never saw such a beauty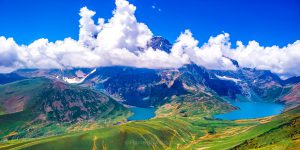 or is this looking more beautiful due to the hardship we took to reach here, i don't know. Covering the distance from the top of Jaz pass to Nandkol camp was a never ending downhill journey, but again the poetry of this land and twin lakes kept us charged to cover this three hours distance a d finally when we reached nandkol camp site, all tiredness vanished in seconds. With Harmukh peak on one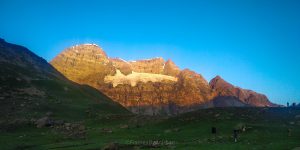 end and several small peaks on the other, it was a dream site for any mountain lover. Mt. Harmukh (16k+ ft), also known as Kailash Of Kashmir rising with Gangbal lake at one side and Nandkol lake on the other is a sacred mountain for Hindus and is also known as the crown of Lord Shiva. It's a land made by God with His own hands…And we are fortunate to witness His creations from such a close distance that the impact will stay forever with us. KGL has been in my wish list since 2015 when one of our trek mates mentioned of its beauty during Kedarkanth trek and finally that dream came true. What I liked most in KGL is, it's a trek that takes one to the core of the valley that has irresistible beauty with a mix of lush green meadows, endless vistas, snowcapped peaks on one end and green carpet on the other with colourful flowers of different varieties making the valley so lively. And last but no means the least, the high altitude glacial lakes of Vishansar, Kishansar, Gadsar, Satsar, Gangbal, Nandkol which make this an unforgettable trek one must try some time in life.
Time to return… Walking downhill for over seven hours from Nandkol to Naranag was not an easy task and that too when with every step we took, poetry started fading amidst the sounds of civilization. Like we started our journey with incredible dish Kashmiri Wazwan on 6th Aug, following that legacy first thing we did after reaching Srinagar on 12th Aug night was to occupy the same table in Mughal Durbar and ordered some other authentic Kashmiri dishes and hit the bed in Lee Heritage Hotel in residency Road. In spite of coming closer to the end of this incredible journey, I was not upset since we few have another eight days to explore Ladakh starting from 14th Aug.
Quick links
We are sorry that this post was not useful for you!
Let us improve this post!
Tell us how we can improve this post?