Completed high school with distinction in 2011, the first in her family to do so. And then went on to pursue college education and then receive a Master's degree in psychological counselling and now working towards a PHD in Clinical Psychology, this is the story of Shilpa Anthony Raj – the daughter of a housemaid and an elephant chaser from Thattagupe –a South Indian village. Since the time she was saved by her grandmother from being killed at birth for having been born a female to the time she graduates, her life took many unexpected turns and twists through her early years.
From facing abandonment by her parents, suffered under the distress of a troubled family, pressurized under the age old traditions and practices of a remote Indian village, Shilpa is torn between the contrasting lives she lead – one of servitude and injustice experienced by her family and the other of opportunity and empowerment offered by a good education in Shanti Bhavan – a residential school started by Dr. George, a philanthropist and ex-serviceman near Bangalore.
 "The Elephant Chaser's Daughter" authored by Shilpa Raj is one such book that undoubtedly brings to light the lives people living on the edge where they constantly struggle to meet the ends, gives a vivid description of people living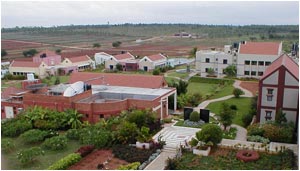 under poverty line in remote villages where they are subjected to all kinds of inhuman atrocities from the haves, where vultures wearing the mask of human look for opportunities to draw them of their last penny, where being born as a girl is still a crime and in spite of all these, dreams of seeing the outside world persists in the minds of some who in spite of all odds don't hesitate to take the first leap for their kids. Shilpa's father is one such man who in spite of all his evil qualities as a man continues to pursue his dream as a father, dream of seeing his daughter successful in life and didn't hesitate of get Shilpa admitted in Shanti Bhavan overcoming all objections from her mother and fellow villagers. This book also depicts the another angle where in spite of all sufferings, how children creates a bond with their teachers, friends, mentors that stays forever, how they find joy and excitement in small things that we adults have forgotten in the sands of times.
While reading the book, I understood one very thing and in Shilpa's word, "Nature is not superior to nurture". It's not necessary that a decent family background is a must for someone to be successful in life but how he or she is nurtured and Shanti Bhavan is one such temple of excellence where kids from poor families with background that sometimes sends a shiver in the spine are nurtured to be a better human in their lives, to become a messiah to bring their families out of the trauma they have been going through for ages and be a light of change to their villages and communities.
*******************************************************************
Click here to buy the book…
We are sorry that this post was not useful for you!
Let us improve this post!
Tell us how we can improve this post?