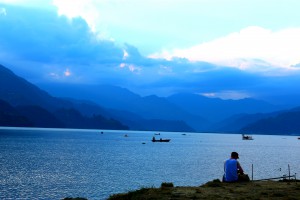 It's 18TH October 2014 and finally we are inside Innova UP-32-EN-4755, heading towards Gorakhpur where after a night-halt will start our journey to Kathmandu tomorrow morning. I remember having a Nepali milkman back in 80s in Lumding. Every year he used to go to his hometown for a month and when back, used to tell me the stories of his village, the mountains, greenery etc and with open mouth I used to listen. These stories used to take me to a land where nature has everything to offer to mankind. For last so many years, I was planning to visit Nepal however was not becoming possible due to various other engagements but this time, I am happy that nothing could stop me at last.
The traffic jam we faced was just outside Lucknow delayed us by two hours as a result of which we reached Gorakhpur hotel at around 11 pm instead of scheduled 9 pm. Dinner in hotel was nice. After a few quick bites, we went into bed. Tomorrow we have to start by 7 am so as to reach Kathmandu latest by 7 pm.
The journey from Gorakhpur to Kathmandu took more than what we thought due to uphill drive and traffic jam just before entering Kathmandu and finally we reached our hotel at 9 am. In spite of day long drive, we were not feeling exhausted only because of nice roads and also the scenic beauty along the way with River on one side and hills on the other. One of the specialties of the road is, in most of the places the road is not far above the river and hence the kind of panic that people experience in driving in hilly places was not present at all.  
The restaurant of the hotel was a cozy one with various arts and crafts hanging from the walls that made the ambiance pleasing. After finishing dinner, we planned our next two days programme starting with famous Pashupatinath Temple and then continue with Swayambhu Temple, Boudha stupa, Buddha Neelakantha Temple, Thamel Chawk, Dharahara, and the three Durbar Squares.
Kathmandu valley has three Durbar square. While Kathmandu and Lalitpur Durbar Square appeared to me with not much to offer, what we liked is Bhaktapur Durbar Square for the diversity it has to offer. Bhaktapur Durbar Square is the plaza in front of the royal palace of the old Bhaktapur Kingdom, 1400m above sea level. Major attractions are 55 window Palace, Lion's Gate, Golden Gate, Mini Pashupati temple, Vatsala temple, Bhairav Temple and Nyatapola temple. It has also a pottery square where we found wide range of pottery works.
Most of the architectures are based on wooden work and though impressive, personally I find Mughal Architectures and architectures we find in South India much higher in standard as far as the quality of finishing and micro detailing is concerned, be it stone work, metal works, wood work or any other form.  
Walking down the narrow street through the market busy with Deepvali shoppers was a nice experience. Finding dry fish of different sizes on a street of Kathmandu was something I never expected. Fruit sellers on their specially designed cycles, sellers on the footpaths, prayer flags of different colours hanging at each and every corner, lights, sounds made our evening walk a memorable one. Finally we reached hotel and started packing. After this two day's tour in Kathmandu, our next destination is Pokhara, the most beautiful place I have come across in recent times. On the way to Pokhara, we visited Mankamana Temple. The cable ride was thrilling due to its steep climb. The amazing beauty of the mountains covered with snow from the temple was a mood booster. During the road journey, we saw the sun slowly setting down behind the horizon leaving a trail of last few golden rays on the snow capped Annapurna range which thrilled us with its everlasting beauty.
Pokhara is the second largest city in Nepal which is the home to many Gurkha Soldiers. Pokhara is a city of eight Lakes namely Rupa, Begnas and Phewa Lake apart from the lesser known Gude Lake, Neurani Lake, Deepang, Maidi and Khastey Lake that made this place a dream destination for tourists. The reflection of the mountain on the lake is something one has to try hard to forget. Apart from its natural beauty, it attracts travelers across the world for various adventure sports, trekking, mountaineering, jungle safari etc. Three out of the ten highest mountains in the world —Dhaulagiri, Annapurna and Manaslu are within 30 miles of the city. Due to its proximity to the Annapurna mountain range, the city is also a base for trekkers undertaking the Annapurna Circuit. Along the street of Pokhara, one can find number of tour organizers who offer different trekking packages to meet variety of needs – some are easy, some moderate and some are difficult.
Next morning, we started our sightseeing with World Peach Pagoda and then continued for next two days with Bindhyabasini temple, Devi's Falls, Mahendra Cave, Bat Cave, Gupteswar Cave, Taal Barahi Temple which is in a small island inside Phewa Lake and Sarangkot.
Sarangkot experience is what I liked the most. The journey started at around 5 am and we reached in an hour to the foothill where from started trekking. While Jayasmita, Priyam and my Mother-in-Law went halfway and stayed to enjoy the sunrise, me and my driver Vimal went to the top which is around 1500 mt from the sea level. We settled down in a small tea stall and started waiting for the sun to rise. We could see the never ending horizon with clouds below us. The beauty of the sky just before sunrise is astonishing- the red sky, Blue Mountains, white cluds, mountain peaks coming above the cloud makes the whole atmosphere a dreamland. All on a sudden, we saw a small semicircular strip of the sun which within no time came to its full existence. The view of the first few golden rays falling on Annapurna range-I,II and III brings a kind of joy and happiness and one can sit for hours together enjoying this beauty of mother nature. Gradually the sun started brightening and we found it difficult to look at it. So amazing it is. When it was just rising, it brought along with it a kind of softness, innocence and with passing moments, it started losing that softness and innocence which is similar to all living beings – when we come to earth, we bring with us our softness, innocence and then start losing the same with due course of time.
After enjoying the best ever sunrise of my life and finishing one more cup of tea, we started our downhill journey. In the evening, we enjoyed along the bank of Phewa Lake where one can find number of small restaurants some of which are having live music etc. Along with some local snacks and beer, we enjoyed the evening and started planning for tomorrow. Tomorrow we will be back to Lucknow. A sense of ending engulfed us gradually and with nice memory of Nepal, we walked down the road to Hotel.
We are sorry that this post was not useful for you!
Let us improve this post!
Tell us how we can improve this post?