It's Monday morning and one surely will be surprised seeing the kind of discipline suddenly prevailing with the commuters on the roads of Lucknow with every traffic signal manned by over five traffic police. And I must say it is better than what we observed till yesterday. When I landed here two years back, seeing the traffic, traffic sense of people, inefficient traffic police, I was really worried.  It was like the famous "Pehele Aap tehzeeb" of Lucknow was thrown away by people here. Coming from Bhubaneswar which has a better managed traffic, it was difficult for me to let go the habit of following traffic rules. However a simple solution was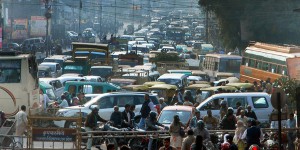 given by my colleague Sayan Biswas. He told, in Lucknow, road belongs to them who dare to put the nose of their cars before anyone and the only rule is there is no rule. Wow !! So Simple. As an obedient student, I followed his instructions – stopped wearing seat-belt, stopped looking at the traffic signals, stopped looking at one way signage, started parking wherever I got space irrespective of whether that was a parking or no parking zone. And helplessly watched the ambulances with patients desperately trying to get a way with little success and police giving a blind eye to such incidences. And surprisingly I never faced problem. Don't know whether to feel happy or not !!
But life did not remain so called nice after sometime. With increasing traffic and nil control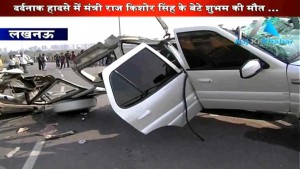 on traffic and no action for violating rules, news of accidents, deaths started grabbing headlines and attention. And thus started series of awareness campaign in public interest. RJs of different FM Channels finally got hold of some new topic after talking about bollywood, politicians and airing cheap jokes for ages. Newspapers flashed series of images showing on how pathetic the traffic situation is and administration finally decided to do something.
However deciding to do something and actually implementing the same when people are used to the concept of "the rule is there is no rule" is always a challenge and is evident from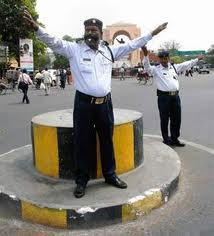 the kind of confusion created both among public and police, traffic jams, one-way two-way confusion which people hardly
follow etc etc. Old habits die hard and Lucknowites are really working hard proving this. Unnecessary arguing with the traffic police for the wrong reasons, promising to oneself not to follow the rule nor allow administration implement this noble thought are few examples one can notice on the streets of Lucknow today. Irony is till yesterday these people only were cursing administration for not being able to control traffic.
All said and done, we must appreciate the effort of administration who after ages is trying to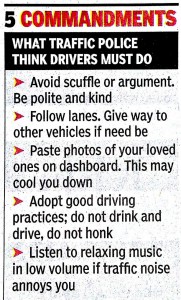 bring some sort of discipline on the roads and must support this noble initiative by at least following the rules and not behaving or acting with a "Yahan Sab Chalta Hain" attitude.
Effectiveness and efficiency through which results are achieved is always a debatable subject and applies here also. Let us only hope for some improvement in coming days and pray this is a long term initiative with genuine concern and not to suppress the media and public fury for the time being. After all when our Chief Minister's getting stuck in the VIP lift for twenty four minutes can raise such panic, media coverage and debate that he could have been taken out in seconds, I am sure our getting stuck in traffic sometimes for hours for covering a mere distance of three kilometers will not go unnoticed by administration.
We are sorry that this post was not useful for you!
Let us improve this post!
Tell us how we can improve this post?