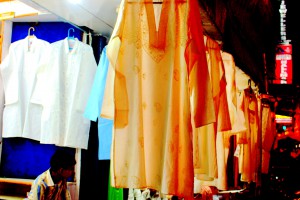 Very few visitors I found in Lucknow who after a busy day do retire to their hotel rooms and book a taxi for Amausi Airport next day without visiting the famous Chowk area. However most of them go to buy apparels made of Chikan. Undoubtedly Chikan is one of the biggest attractions for any visitor coming to Lucknow but not the only reason that makes Chowk a must-visit destination.
Chowk is a market area located in old Lucknow. The area stretches to around one kilometer from Gol Darwaza on one side to Akhbari Darwaza on the other with abundance of popular tourist places all around from the pages of History. However here I am not going to talk about the already famous tourist destinations like Imambara, Rumi Darwaza etc in the vicinity which people already know.
Whenever we talk about Lucknow or Chowk, the first thing that comes to our mind is Awadhi Food. And why not? Nawabs were patrons of art, culture, and food becomes an important part . And in this Chowk area only, many great Awadhi Cuisines were innovated and gradually came to the forefront of Indian cuisine.
Getting up on a Sunday morning and driving to Chowk to relish the mouthwatering Nimish (widely known as Makhan Malai)is a craze with Lucknowites and you must not miss this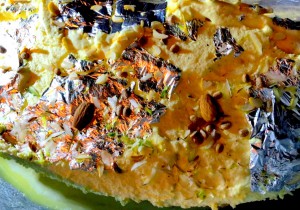 given an opportunity. This delicious food is a winter special only and streets crowded with people enjoying this food obviously is a proof of its quality and popularity. There are around 12-15 vendors selling this item on their nicely decorated shops and the whole area filled with a mood of celebration will surely make someone relax after a busy week. Makhan Malai is extremely lightweight, fluffy and made of cow milk with flavoured saffron and rose water. Traditionally it is made of Horse milk in Persian recipe, however here it is made of cow milk. Anyone coming to Lucknow during winter must try this unique recipe.
Anyone coming to Lucknow during Eid must not miss the atmosphere around Chowk (though this is almost same throughout the year and one will not miss too many things even during other seasons) . Me and my wife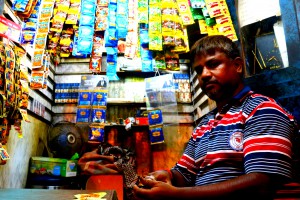 Jayasmita visited this place during Eid and was amazed to see how Chowk transformed to a happening place with Lights, Sounds, Crowd, Food that we don't come across every day. Knowing the kind of traffics, we reached by an autorickshaw which gave a peace of mind and could concentrate on our exploration without any worry. We started our journey first with a 'Pan'. Even the simple Pan shops are nicely decorated with the owners sitting in their shops feeling proud to be part of this celebration filling the surroundings. Different varieties of 'Pan' are available at different prices starting from Rs. 6/- to around Rs. 30/-. However if someone wants to have a 'Pan' of Rs. 1000/-, it is also available in Lucknow wrapped in gold or silver-plated wrappers with lots and lots of ingredients put into it. However those as per me are only showbiz and traditional authenticity somewhere gets diluted in this showbiz.
Then comes the shopping part and we started our shopping first with buying some birds from a bird-seller. The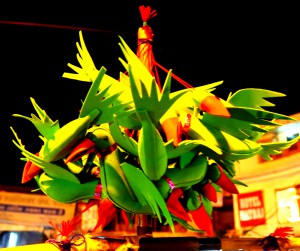 seller is an old man who has been selling these toys for last fifty years. I started speaking to him and he was telling that their family was basically from a village near Pratapgarh and came to Lucknow long back. Then comes the time of buy some "Chappal" and we ended up in "Jutawali Gali".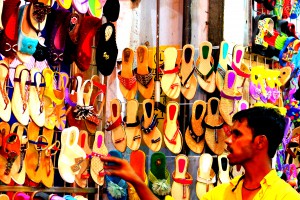 This "Jutawali Gali" is famous for different kind of excellently crafted Footwear specially for women. The shopkeeper with his mouth full of Pan started showcasing his creations and explaining the fundamental of each design, how these are made with his face upwards so that the Pan Spit does not fall off. One can find large number of shops in this lane all specializing in making footwear and almost all designs are similar with little differences in prices.
Now its turn to have some food and we landed first in Mubeen's, located opposite to Ek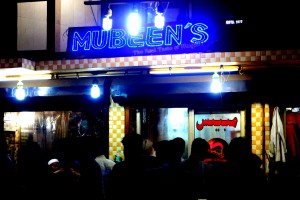 Minara Majil, Akbari Gate. This is one of the best place to have authentic mughlai food. One  must try Nihari Kulcha, Pasanda and Korma. Taste is simply divine. After coming to Chowk, if someone does not try Tunday Kebab, visit remains incomplete and one must try out the famous Tunday Kebab of Chowk. It is not known to many that Tunday Kebab was innovated by a Tunda (person who has one hand). The legend goes like some old Nawab who had problem in chewing called for some competition to make a soft kebab so that even a toothless person could eat it. And the competition was won by Haji Murad Ali who had only one hand. Today not only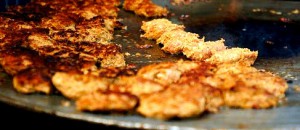 toothless people but all enjoy Tunday Kebab. The most famous Tunday kebab is Galawati Kebab. 'Gala' means soft. It is told that the recipe includes about 150 different ingredients in it's preparation including Papaya to make it soft. Don't know how far it is true but can only say, whoever enjoyed Galawati Kebab cannot forget the heavenly taste in his lifetime and will be addicted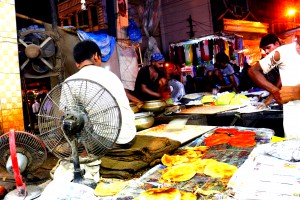 to this divine food whenever he comes to Lucknow.  Street food of Lucknow will be incomplete if it's Biriyani is not discussed. The Lucknowi Biriyani cooked with secret Nawabi flavors and spices, is unique and different from the famous Dum Biryani one finds in Hyderabad. Many compare Hyderabadi Dum Biryani with Lucknowi Biryani, but as per me, both are different and stand at their own places and cannot be compared. The best places to try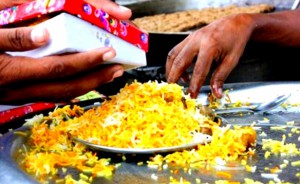 out Lucknowi Biriyani in Chowk are Idris ki Biriyani and Lalla Biriyani. However if expectation is to have a litter free environment with very hygienic food, one will surely be disappointed. The entire place is very crowded with scarcity of place to offer you a excellent sitting area to have your food. However here hardly any person comes whose priority is an excellent sitting area rather than the taste of typical Lucknowi food no five-star restaurant can ever offer.
After mention of such delicious Lucknowi dishes, story will be incomplete I don't name a few sweets one can enjoy in Chowk and list starts with famous Gulab Jamun. The sizzling hot Gulab Jamun deep fried and dipped in Sugar syrup and then served in a most casual way on your plate can bring a sigh of relief to your tummy after a heavy dinner. Another sweet dish is Halwa. Mainly three different kinds of Halwa is available in Chowk – Kali Gajar halwa, Habshi halwa and Zuazi halwa. And one visiting Chowk must not leave these untried. After having a mouthful of Sweets, if someone has still some energy left and space in his stomach, I suggest him to take a walk towards Gol Darwaja and have some Lucknowi chaat & Golgappa and end the visit to this famous place called Lucknow Chowk.
We are sorry that this post was not useful for you!
Let us improve this post!
Tell us how we can improve this post?